Duck's sausage
The fresh duck sausage, it is finally available.
Produit frais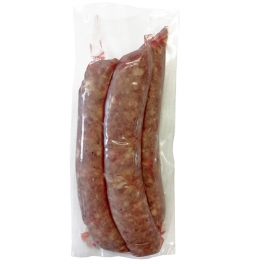 Maximize

Display all pictures
Description
Fresh duck sausage. Pocket of 4 sausages.
The Barbecue season with family or friends is starting... It's time to think about what you're going to serve to your friends. So to be original, invite the duck sausage to your table. It is a large sausage of 500 grams (same shape as Toulouse sausages) to cook and share with others. The stuffing is inserted into a natural pork casing.
Ingredients :
Duck meat: 41%,
Turkey meat,
Fat turkey,
Pork fat,
Preservative: potassium lactate, salt, potato starch,
Acidifier: sodium acetate, spices,
Antioxidant: ascorbic acid, natural flavours, pepper, pork casing.
Allergens
Possible traces of: Milk, Eggs.
Nutritional declaration per 100g
Calories
Fat
Satured
Carbohydrate
Sugars
Protein
Sodium
983

kJ

237

kcal

19g
6,9g
1,5g
< 0,5g
16g
1,74g
Features
Made with :

Duck and turkey

Origin of duck meat :

France

Origin of turkey meat :

France

packaging :

Under vacuum

food preservation :

in the refrigerator (+/- 15 days)
Tasting tip :
Cooking pure duck sausages

For cooking your fresh duck sausages, you can fry them or cook them à la plancha, but we advise you to enjoy them at the BBQ (barbecue) to get started. Cooking lasts 10 to 15 minutes. Start cooking the sausages over high heat to sear them, then reduce the heat. Turn the sausages over once or twice on each side during cooking.
Remember to add herbes de Provence and a little pepper towards the end of cooking your sausages.
There is no shortage of recipe ideas for duck sausages. Once the barbecue cooking of sausages has been tried and tested, you can try to cook your pure duck sausages with lentils, beans or even better: simmered in a dish like cassoulet. Finally, it is also possible to "confide" your sausage, it is the same principle as duck confits. Allow about 2 hours of cooking time, making sure to cover the sausages with duck fat.
Accompaniment for duck sausages
In general, pure duck sausages are served with potatoes, lentils or beans. For this summer, if you want to eat light, a large salad will do. For example, make a southwestern green salad with gizzards and dried duck breasts.
Tips from the chef
Duck sausage on the barbecue
Before you barbecue your duck sausage, roll it up into a snail as shown in the picture below, and prick it with two wooden or metal sticks to hold it all together. It's easier to manage.
With this article we suggest