Duck tournedos with uncooked foie gras
Duck breast cooked as tournedos with foie gras
Produit frais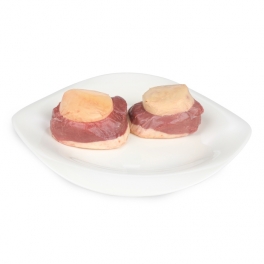 Maximize

Display all pictures
Description
The 2 tournedos weight about 380g. 1 tournedos per person. Famous for festive meals and even better for a romantic meal !
ingredients
Slice of duck breast, duck foie gras
Features
Made with :

Fat Duck

Origin of duck meat :

France

Provenance of ducks :

Gers (France)

Type of liver :

Bloc de foie gras

Conditioning :

Sous-vide

food preservation :

15 jours au réfrigérateur
Tasting tip :
Vacuum packed for two people. A specific recipe card is provided to you with your order.
With this article we suggest