Duck confit: 1 wing with its breast and a leg
1/2 canard coupé dans la longueur : 1 aile et son magret solidaire et une cuisse confits dans la graisse de canard.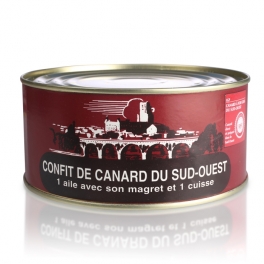 Maximize
Description
Ingrédients
1 aile et son magret + 1 cuisse de canard gras, graisse de canard, sel.
Features
Made with :

Fat Duck

Origin of duck meat :

France

Origin of the ducks :

Gers (France)

packaging :

Preserved (canned)

food preservation :

to be kept dry
Tasting tip :
Vous pouvez idéalement l'utiliser pour faire un Parmentier de canard.
With this article we suggest