Duck's leg preserved in fat
Mr. Duck only eats two meals a day, while his sidekick shares three. The duck pieces are smaller, so the duck pieces are smaller. You can ideally use it to make a duck parmentier.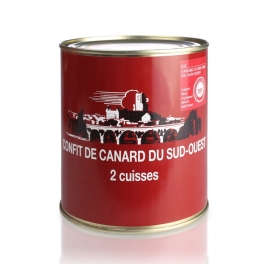 Maximize

Display all pictures
Description
Candied duck legs
The candied duck legs are already cooked. You only have to reheat them to eat them. It is undoubtedly one of the most consumed products in the southwest because it is so good and easy to make.
The different formats
Available in metal cans, the cans contain from 2 to 12 legs in addition to a can in a jar (very aesthetic) for the 4 legs format. If you prefer, we also offer candied legs in individual vacuum packaging.
Baking of candied thighs
The duck legs are cut, then churned (mixed, shaken) in salt before being disgorged, then cooked in duck fat for about two hours.
Foie gras from the southwest
igp southwestWe only work with French farm ducks raised with GMO-free maize. We have IGP certification for southwestern foie gras ducks for the following products: fresh duck foie gras, duck breasts, duck breast, tenderloin, candied legs, sterilized whole duck foie gras.
Thigh preservation after opening
In the can, the legs are immersed in duck fat, which makes it possible to soften them; but also to consume them in several times, it is enough to cover the can with plastic film with the fat and the remaining legs before putting the whole thing back in the refrigerator.
Ingredients
Fatty duck legs
Duck fat,
Salt.
Nutritional declaration per 100g
Calories
Fat
Satured
Carbohydrate
Sugars
Protein
Sodium
1351

kJ

326

kcal

26g
7,1g
0,0g
0,0g
22g
2,2g
Features
Made with :

Fat Duck

Origin of duck meat :

France

Origin of the ducks :

Gers (france) IGP label

packaging :

Preserved (canned)

food preservation :

to be kept dry
Tasting tip :
Although they can simply be cooked in a pan for a few minutes on each side; the best solution for cooking candied duck legs is to cook them in the oven in the grill position for about ten minutes, which will allow the skin of the candied legs to grill slightly. The skin will be crispy (similar to a grilled chicken). As an accompaniment, the candied legs will easily go well with potatoes (cooked in duck fat), bean bundles (green or white) or lentils.
You can also integrate the legs into simmered preparations such as a good southwestern cassoulet or fray them for a duck parmentier hash.
With this article we suggest