Goose breast
Goose breast cooked and cured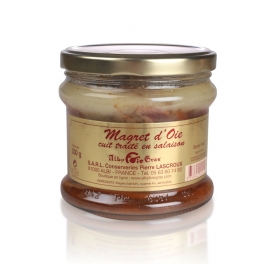 Maximize
Description
Exactly like a "Jambonneau", the aesthetic rendering is strictly the same, but this is goose meat, notice to amateurs.
Ingredients
Fat goose breast, rind, salt and pepper.
Nutritional declaration per 100g
Calories
Fat
Satured
Carbohydrate
Sugars
Protein
Sodium
1532

kJ

371

kcal

34g
10g
0,0g
0,0g
15g
1,60g
Features
Made with :

Goose

Origin of goose meat :

France

packaging :

Preserved (canned)

food preservation :

to be kept dry
Tasting tip :
A delicacy to be served fresh with pickles or ceps in vinegar.
With this article we suggest