Stuffed duck neck
The neck skin is stuffed to overflow: it follows the shape of the can.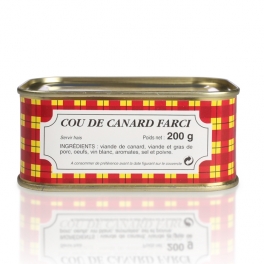 Maximize

Display all pictures
Description
Duck neck skin stuffed with pork and duck meat, this is a cold starter.
Ingredients
Duck meat, pork meat and fat, eggs, white wine, spices, salt and pepper.
Nutritional declaration per 100g
Calories
Fat
Satured
Carbohydrate
Sugars
Protein
Sodium
754

kJ

181

kcal

12g
4,2g
0,8g
0,0g
17g
1,8g
Features
Made with :

Duck and Pork

Origin of duck meat :

France

Origin of the ducks :

Gers (France)

Origin of pork meat :

France

packaging :

Preserved (canned)

food preservation :

to be kept dry
Tasting tip :
Keep this product in a cool place until tasting. Ideal for your gourmet salads. Add a few roasted pine nuts or pistachios to your salad and you are ready to enjoy. For the most gourmands you can always add a slice of filled duck breast to your salad. A thousand and one way to create a gourmet salad.
With this article we suggest