Whole precooked duck's foie gras in bar
It is a whole duck foie gras cooked in the oven at low temperature to preserve all its aromas. Its texture is more melting than a whole foie gras in preserves.
Produit frais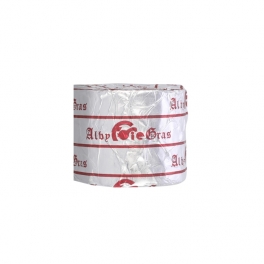 Maximize

Display all pictures
Description
The melting texture and pretty pink colour of this semi-cooked whole duck foie gras make it a rare product. It is the product to which people in the southwest turn by default, whereas it is not necessarily well known to the general public, who tend to prefer whole foie gras in jars.
This semi-cooked foie gras is offered vacuum-packed for better conservation, and moulded in the shape of a bar to allow you to enjoy beautiful presentations.
Whole duck foie gras, cooked at low temperature in the oven. Keep in a cool place.
ingredients
Duck foie gras, salt, pepper
Nutritional declaration per 100g
Calories
Fat
Satured
Carbohydrate
Sugars
Protein
Sodium
2705

kJ

657

kcal

69g
31g
1,6g
1,2g
6,5g
2,60g
Features
Made with :

Fat Duck

Origin of duck meat :

France

Origin of the ducks :

Gers (France)

Type of liver :

Foie gras entier

packaging :

Under vacuum

food preservation :

in the refrigerator (+/- 21 days)
Tasting tip :
It must be kept in the refrigerator. No cold breakage. However, you can freeze it in its original packaging and thaw it 48 hours before in the refrigerator.
For our part, we systematically ship our semi-cooked foie gras by refrigerated transport.
With this article we suggest