Duck breast filled with foie gras
Magret de canard percé sous la peau et fourré au foie de canard.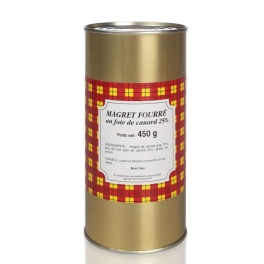 Maximize
Description
Entrée froide avec 25% de foie de canard.
Ingrédients
magret de canard gras (70%), bloc de foie gras de canard (25%), gelée, sel et poivre.
Features
Made with :

Fat Duck

Origin of duck meat :

France

Provenance of ducks :

Gers (France)

Type of liver :

Bloc de foie gras

Conditioning :

Conserve métallique

food preservation :

5 ans au sec
Tasting tip :
Original et facile d'utilisation, à trancher et à servir très frais sur un lit de roquette de mâche ou de feuille de chêne. Vous n'avez qu'à sortir le magret fourré de son emballage il est prêt à être dégusté. Idéal aussi pour vos apéritifs dinatoires tranchez le finement sur un bon pain de campagne et le tour est joué !
With this article we suggest