Duck's foie gras mousse
La mousse de foie de canard, dans toute sa splendeur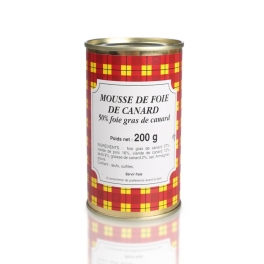 Maximize
Description
mulsion de 50% de foie gras de canard avec de la viande de canard et de porc.
Ingrédients
foie gras de canard (50%), viande de canard (10%), poitrine de porc, graisse de canard (10%), oeufs, lait, Armagnac, sel et poivre.
Features
Made with :

Canard et Porc

Origin of duck meat :

France

Provenance of ducks :

Gers (France)

Origin of pork meat :

France

Type of liver :

Bloc de foie gras

Conditioning :

Conserve métallique

food preservation :

5 ans au sec
Tasting tip :
Trancher en deux dans le sens de la longueur et servez la sur un toast grillé.
With this article we suggest