Le Podium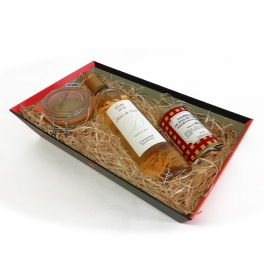 Maximize
Pack content
1 x
Full natural duck's foie gras in a jar
Whole duck foie gras from the southwest (IGP), in its jar. Foie gras lobe deveined by hand. It is the top of the range of foie gras because it is the smoothest and tastiest.
1 x
Whirl of duck's foie gras
Look no further for appetizers. Open the box on both sides with your knife push the products and slice some nice medallions.
1 x
GAILLAC blanc doux OR N°3 DOMAINE DUFFAU 50CL
GAILLAC white sweet GOLD N°3 Far from the sweet eye Domaine Duffau vintage 2014
Len de l'el in Occitan or Loin de l'oeil in French is a grape variety that is only found in the Gaillac region.
Features
Origin of duck meat :

France

Origin of the ducks :

Gers (france) IGP label

Type of liver :

Foie gras entier

packaging :

Gift box

food preservation :

to be kept dry