Block of duck's foie gras in a jar
Foie gras, salt and pepper.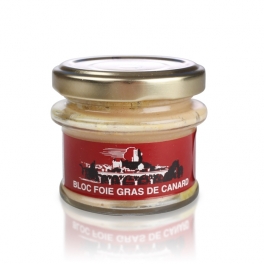 Maximize
Description
Reconstituted foie gras lobes, i. e. worked together and emulsified to give a smooth and regular consistency.
Ingrédients
Reconstituted duck foie gras 91%,
Water,
Salt,
Pepper,
Preservative-free.
Nutritional declaration per 100g
Calories
Fat
Satured
Carbohydrate
Sugars
Protein
Sodium
1979

kJ

480

kcal

49g
21g
2,2g
1,6g
6,8g
1,1g
Features
Made with :

Fat Duck

Origin of duck meat :

France

Origin of the ducks :

Gers (France)

Type of liver :

Bloc de foie gras

packaging :

Preserved (glass jar)

food preservation :

to be kept dry
Tasting tip :
Put your product in the refrigerator two days before serving it because a good block is above all a very fresh product served. Cut it with a foie gras thread preferably and serve it with fig or apple confit.
With this article we suggest