Muscat de Beaumes de Venise (sweet white wine)
Natural sweet wine. White Muscat with small grains. A delight with foie gras. In addition, the very slender bottle is particularly elegant. It is, even before tasting the wine, a criterion that seduced us.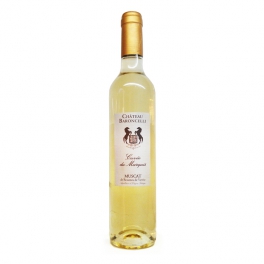 Maximize
Description
chateau baroncellibeaumes de veniseTo bring a little originality to your food/wine pairings, combine your foie gras with a Muscat ! "We have pre-selected for you this "Beaumes of Venice"
Muscat....
It must be drunk young to rediscover all the aromas of the Muscat grain that you crunch. To be served chilled, faithful friend of your aperitifs, surprising with foie gras, it will be appreciated with desserts, sorbets, desserts and even with blue-veined cheeses.
The vineyard...
The estate extends over 20 hectares facing Mont Ventoux on the terroir of the Dentelles de Montmirail massif. The Muscats have the place of the King, planted on hillsides on a sandy and warm soil supported by small walls typical of the landscapes of the Vaucluse.
Thanks to the ideal location of the cellar, in the heart of the vineyard, we are present at all the stages necessary to produce a good wine.
The grape variety....
The grape variety is "Muscat Blanc petits grains": pale, golden, brilliant colour, with aromas of fruit and flowers. Harvesting is manual to allow the grapes to be picked at the right maturity and a better selection of bunches.
The vinification according to the mutage process (interruption of alcoholic fermentation by adding 5 to 10% neutral alcohol), gives this beverage a very rich aromatic richness. The golden yellow colour and complex bouquet of flowers, exotic fruits and honey will quickly be preserved in the bottle.
Features
packaging :

Bottle

Capacity :

50 cl
Tasting tip :
This Muscat de Beaumes de Venise can be served at 6° / 8° as an aperitif, with foie gras, melon, poultry or rabbit terrines, fish carpaccios, sweet cheeses (fresh goats...), brioche or even vanilla and white fruit desserts (apples, pears...).
Keep in a cool place, 2 to 6 weeks after opening. Have a good tasting.
With this article we suggest