Block of half-cooked foie gras
Produit frais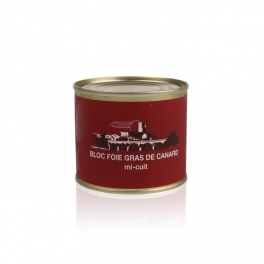 Maximize

Display all pictures
Description
Block of semi-cooked duck foie gras.
Semi-cooked foie gras is a foie gras cooked at low temperature, which allows the foie gras to keep all its flavour. Although presented in a metal can, it is therefore a fresh product to keep in the refrigerator. However, its consumption times are longer than our half-cooked whole foie gras under vacuum.
Ingredients
Reconstituted duck foie gras 91%,
Water,
Salt,
Pepper,
Preservative-free
Nutritional declaration per 100g
Calories
Fat
Satured
Carbohydrate
Sugars
Protein
Sodium
1979

kJ

480

kcal

49g
21g
2,2g
1,6g
6,8g
1,1g
Features
Made with :

Fat Duck

Origin of duck meat :

France

Origin of the ducks :

Gers (France)

Type of liver :

Bloc de foie gras

packaging :

Preserved (canned)

food preservation :

to be kept dry
Tasting tip :
Although presented in cans, this duck foie gras must be kept in a cool place.
Storage must be done in the refrigerator. No break in the cold. You can, however, freeze it in its original packaging and defrost it 48 hours before in the refrigerator.
With this article we suggest